Super Angel Stainless Steel Juice Extractor Model DELUXE, Juicer
SA-DELUXE
---
Free Shipping on Orders Over $79.95
The Super Angel Living Juice Extractor is the Roll's Royce juice extractor without questions. Super Angel Living Juice Extractor will juice almost anything from carrot and apples to wheatgrass and spinach.

The DELUXE Model is an upgrade of the 7500; upgrades are below:

1) Automatic anti-jamming system 
2) Automatic reverse function when jamming
3) Automatic cooling system when overheating inside the juicer
4) Automatic self-controlling motor thermal sensor
5) Newly designed main control board
6) FDA approved
7) Soft Fruit Extracting Housing (304 High Quality Food Grade S. Steel). This is the difference with the PRO

Features:
Exclusive antibacterial stainless steel gears slowly rotate at a low 82 RPM generating no heat or shock so you can get the highest quality extraction of nutrients and live enzymes with minimal oxidation.
Three-stage twin gear system for efficient juice extraction. Stage one applies concentrated pressure to the fruits or vegetables. Stages two and three grind and continuously process the fruits or vegetables, producing very dry pulp and as a result - more juice. In addition to the three-stage twin gear system, the Super Angel's three-stage screen filters can maximize pure juice yield resulting in almost 20 to 30% more juice extracted compared to other juicers.
Easiest, simplest clean up compared to any other twin gear juicer or vegetable juice extractor. It is a high functioning machine that will certainly prove itself in this and other areas. Please closely look at every single part of the Super Angel Juicer. It is completely different from any other juice extractor. Every single inch is made of the highest quality material and created from excellent workmanship. The Super Angel is not just another juicer. The Super Angel Juicer is at the pinnacle of quality and works performance both in name and reality.
Free Glass Jar for Juice Collecting 
All Stainless Steel Construction
No Plastic Toxins
3 Stage Twin Gear System
3 Stage Screen Extracting
3 HP Twin Gear Grinding Force
82 RPM
Drier Pulp 
Ease of Clean up & Operation
Heavy Duty Construction
Fan and Unique Cooling System
Automatic Overheat Sensor
Super Quiet Operation
No Pulp Adjustment Knob Needed
6 Safety Devices with Electromagnetic Wave Protection
Standard Extracting Screen Housing Included
Chute Opening : 1.75 inches
Unit dimensions: 19.5-in L x 7.75-in W x 10.5-in H
10 years warranty on both motors and parts (excluding "Wear & Tear" items)

Includes: 1 X Motor Base Unit 1 X Twin Gear Set (304 High Quality Food Grade Stainless Steel) 1 X Standard Extracting Housing (304 High Quality Food Grade S. Steel) 1 X Splash Guard 1 X Silicone O-Ring plus 2 extra 1 X Cleaning Brush 1 x Scrubbing Bristle 1 X Screen Scraper 1 X Standard Wooden Pusher 1 X Wooden Pusher with Silicone Seal (for soft fruit juicing) 1 X Pulp Collector (plastic) 1 X Pyrex Cup (glass juice collector) 1 X Power Cord 1 X Extra Fuse inside Fuse Box 1 X Instruction Manual
- Differences among 4 models - 
1) PRO & PLUS: The only difference is that the Model PRO includes the anti-jamming auto-reverse feature where the same process will be done manually on the PLUS. Both models are made of SUS-304 high-quality food grade stainless steel.
2) PRO & DELUXE: The difference is that the Model Deluxe includes the extra attachment for Soft Fruit Extracting Housing. Both models are made of SUS-304 high-quality food grade stainless steel. 
3) PRO & PREMIUM DELUXE: Only three(3) major parts of Twin Gears(auger) & Standard Extracting Housing and Splash Cover of Model Premium Deluxe are made of SUS-316 surgical grade stainless steel. The remaining other parts of Model Premium Deluxe are made of 304 high-quality food grade stainless steel. The Model Premium Deluxe doesn't include the extra attachment of Soft Fruit Extracting Housing.
- Difference between Food Grade and Surgical Grade stainless steel - 
Chemical Composition of Stainless Steel Alloy 
SUS-304(Food grade) : Chromium 18%, Nickel 8% 
SUS-316(Surgical grade) : Chromium 16%, Nickel 10%, Molybdenum 2%, 
SUS-316 surgical grade stainless steel is more resistant to sea salt, sea water and de-icing salts. 
The above two kinds of stainless steel grades are safe, does not leach out, does not react with food and does not rust.
"You must register your product within 30 days after purchasing the product to obtain benefits (Repair Service and Warranty)."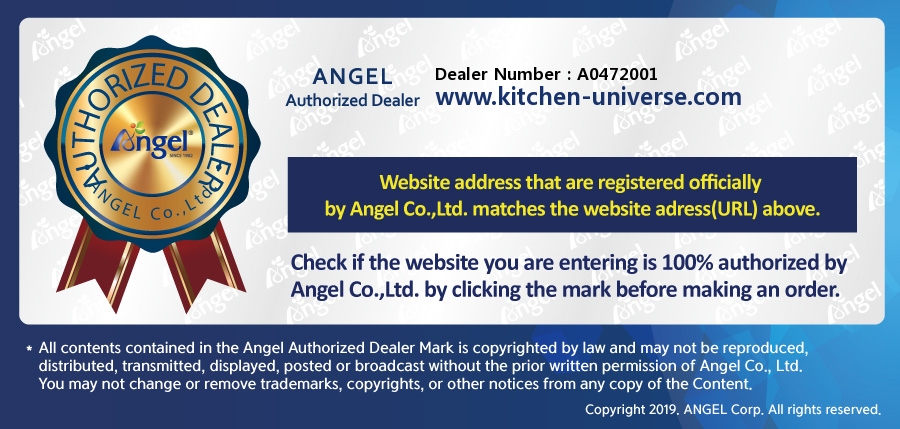 FREE SHIPPING on orders of $79.95 or more
If the items in your order which qualify for 'Free Ground Shipping' total $79.95 or more, your order ships FREE!. Free Ground Shipping is only available for the Continental US.
Please note that all expedite shipping time start counting the next business day after your placed an order.Due a high volume of orders, shipping delays of carriers and some COVID19 issues with warehouses transit time shown on web-site are for estimation purposes only. We cannot guarantee that we'll use the carrier you have chosen (if you have chosen one); we may ship FEDEX instead of UPS when asking for a service. Same thing applies for Priority Mail
How do I return an item?
If there are any delays due to weather conditions or any nature related problems. Shipping charges will not be refundable.
Most items purchased from Kitchen Universe can be returned in new and unused condition within 30 days for a refund of the purchase price.

 

(If your item came with a free gift, the gift must also be returned in new, unused condition to receive a full refund). All fully automatic espresso machines are subject to manufacturer's policies, to return them please contact us at: info@kitchen-universe.com 
We don't accept returns for used items unless item is defective. 
Furniture including Kitchen Carts, Kitchen Islands, Working Tables, Benches, Butcher Blocks and Food are not returnable under any condition. If any piece of furniture is defective; it will be exchanged not returned.
Parts can only be returned when they don't fit the intended replacement unit; if your part doesn't fit and we have shipped the correct product (part number on product matches item number on your invoice); return freight will be paid by customer.


Extended warranty is not refundable under any circumstances; this is a third party service; it's not refundable
We cannot guarantee cancellation of orders once they have been placed. If you have placed and order and need to cancel it, the package needs to be refused upon delivery; shipping charges will not be refundable, including Free Ground Shipping orders unless we are able to cancel your order. There is no guarantee of cancellation once an order is placed.
We do every effort to stop orders that are cancelled upon customer request. However, if cancellation is requested while package is in transit, a re-stocking fee will apply. The re-stocking fee to be charged is the cost that carrier charges us for shipping to your destination and back to our warehouse.
This re-stocking applies to all free shipping orders.
This charge depends on weight and destination. it varies from 15% to 20%.